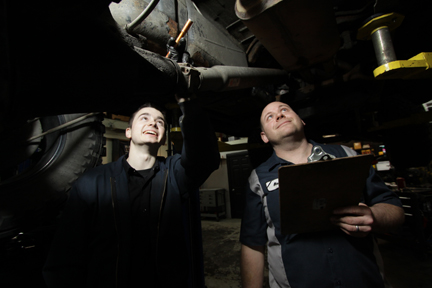 Your transmission is an integral part of your vehicle, and they have a reputation for being expensive to fix. Count on Armstrong Family Auto Care in Bellingham, WA for the dependable, affordable  drivetrain repair services you deserve! Used and rebuilt units are available to help you save even more. Call us at 360-526-2189 for more information.
Make Armstrong Family Auto Care your source for complete drivetrain services. We offer transmission repair and replacements of new or used units on all types of vehicles including cars, trucks, SUVs, vans and RV applications. Contact us today for details or to schedule your next service!
The number one case for Automatic transmission failure is heat! If you are towing heavy loads we highly recommend having us install A large capacity transmission oil cooler. Protect your investment.
Armstrong can help you with all of your drivetrain needs. We service and rebuild most transfer cases and differentials. We  also install new gears and lockers for your racing or off-road applications. We only use Yukon  quality parts from Randy's Worldwide. Did you put Bigger tires on and now have less power? We install complete front and rear gears as well as properly calibrating your speedometer on most applications.
Is your manual transaxle bumping and grinding? Armstrong is your place. We replace clutches, flywheels and  rebuild most manual transmissions in house.  Come get an estimate today!
Don't forget about servicing all of your drivetrain. We recommend changing your transfer case and axle fluid every 30,000 miles. Schedule your fluid service today.
Your Total Transmission Resource:
• Computer diagnosis
• External diagnosis
• Fluid and filter replacement
• Performance transmissions
• Transmission coolers
• Axles
• U-joints
Save on Your Next Big investment!
Don't spend too much on replacing your transmission. Armstrong Family Autocare offers remanufactured automatic transmissions and can also rebuild most units to help you save money!